Teach Truth Day of Action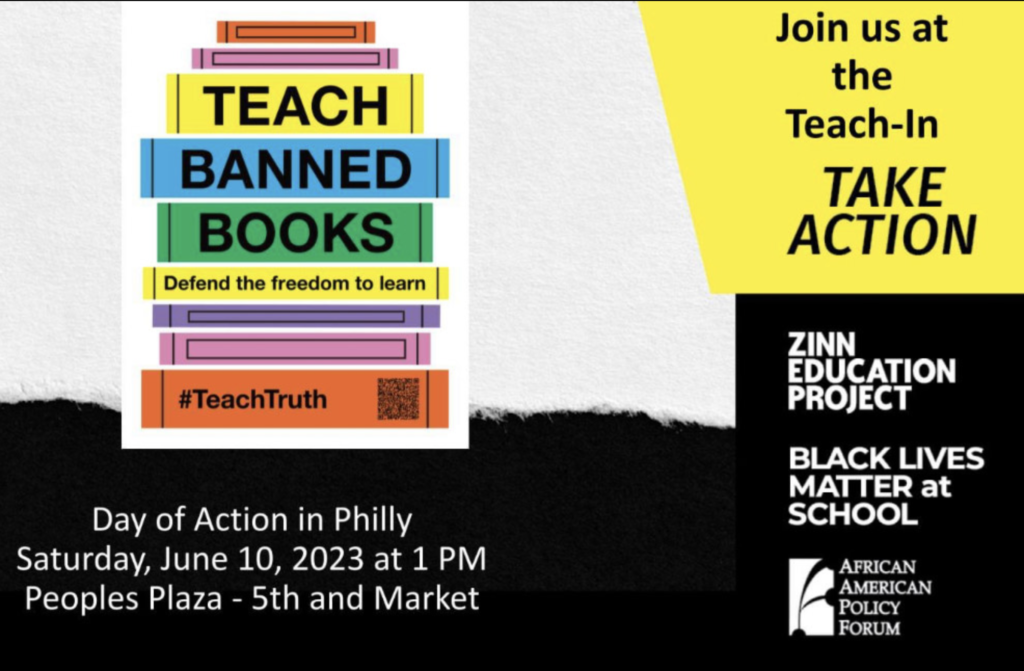 PCM joined the national #teachtruth Day of Action and had an empowering day playing the banned book guessing game, decorating bookmarks, exchanging banned books, and educating folks on the dangers of Moms for Liberty and their bigoted agenda.
Stop MFL Protest at the Marriott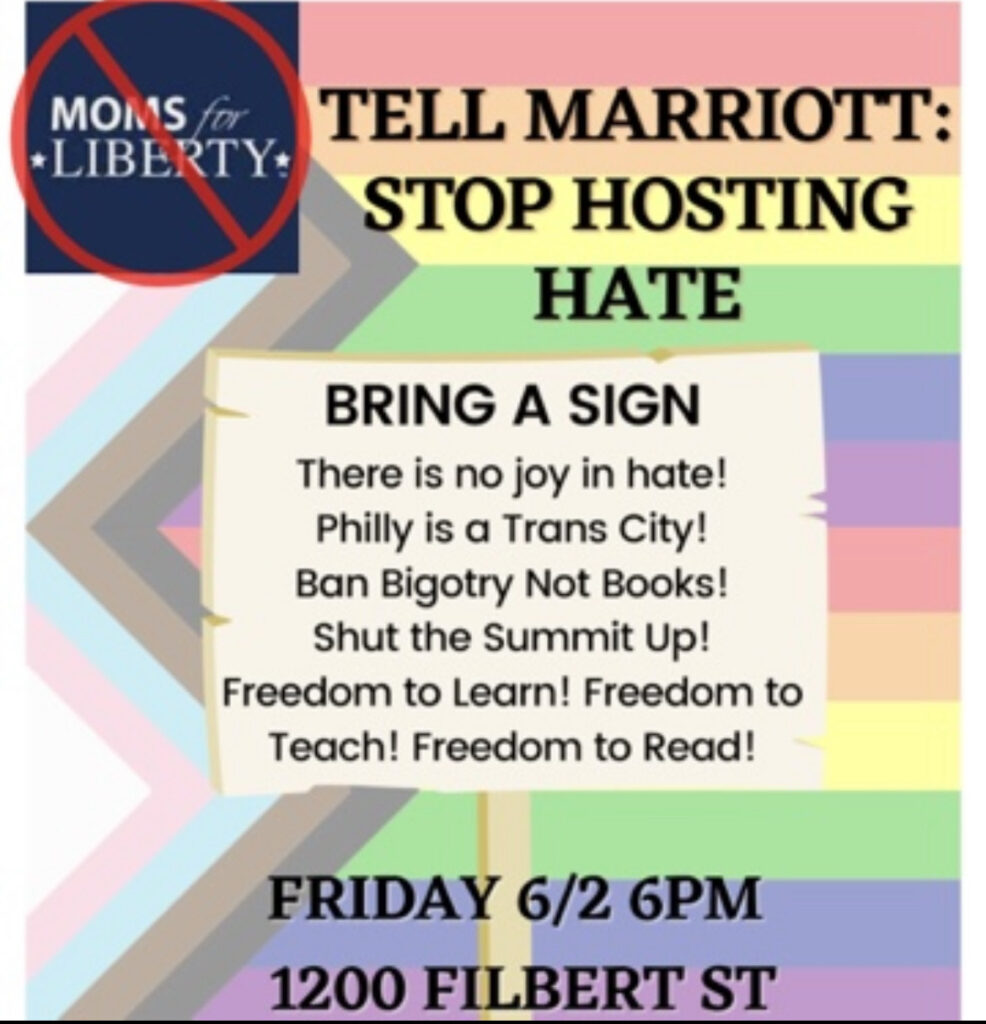 We were proud to participate in the second of many large-scale protests at the Downtown Marriott, who's hosting the Moms for Liberty "Joyful Warriors" conference this summer. Thanks to ACT-UP Philadelphia for taking the lead. So many great signs and so much amazing energy went toward this protest to show the Marriott what our city stands for.
Talking With Kids About Identity & Justice — workshops 1 & 2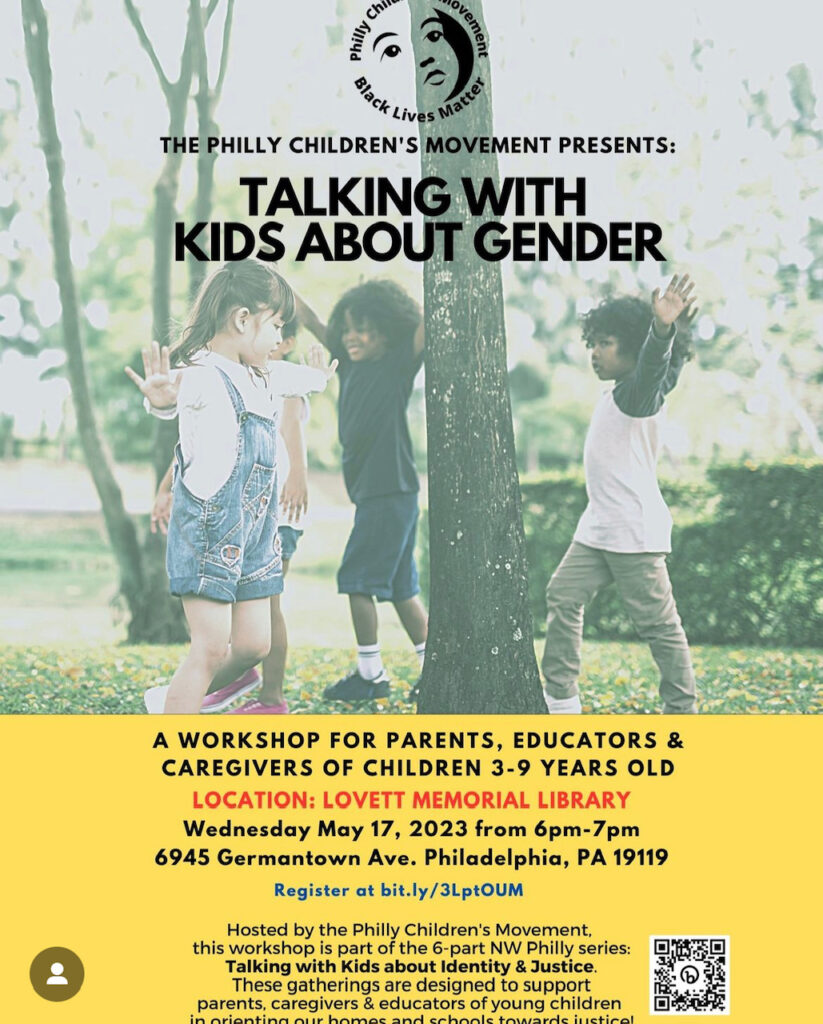 Our Talking With Kids about Identity & Justice series is off with a bang! We hosted our first two workshops this spring, equipping parents, caregivers, and educators with strategies and resources for talking about identity and justice with young kids and building a justice-oriented home and community.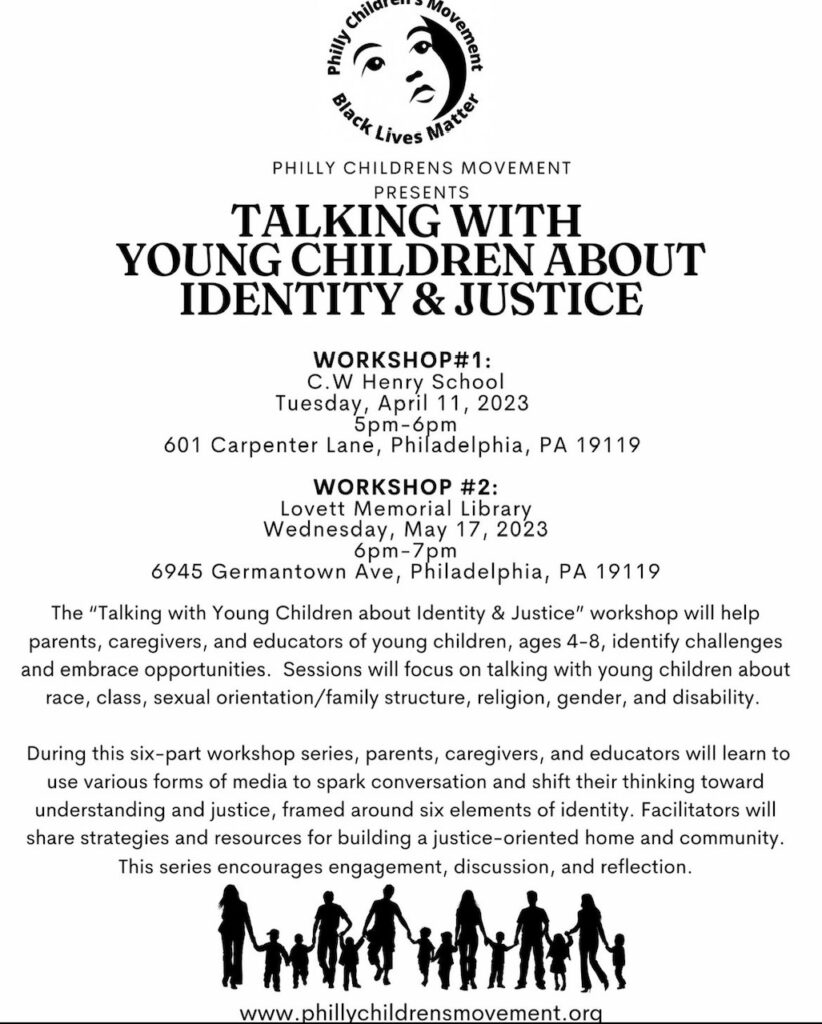 PCM's Radical Little Library's New Home
Our Radical Little Library has a new home, and it's more important than ever! Visit us on the campus of the C.W. Henry School at 601 Carpenter Lane in Mt. Airy to explore a rotating selection of books featuring BIPOC and/or LGBTQ and/or disabled and/or other underrepresented stories. If you're looking for a way to fight rising book bans, please consider donating some banned books to the RLL.
Radical Devotion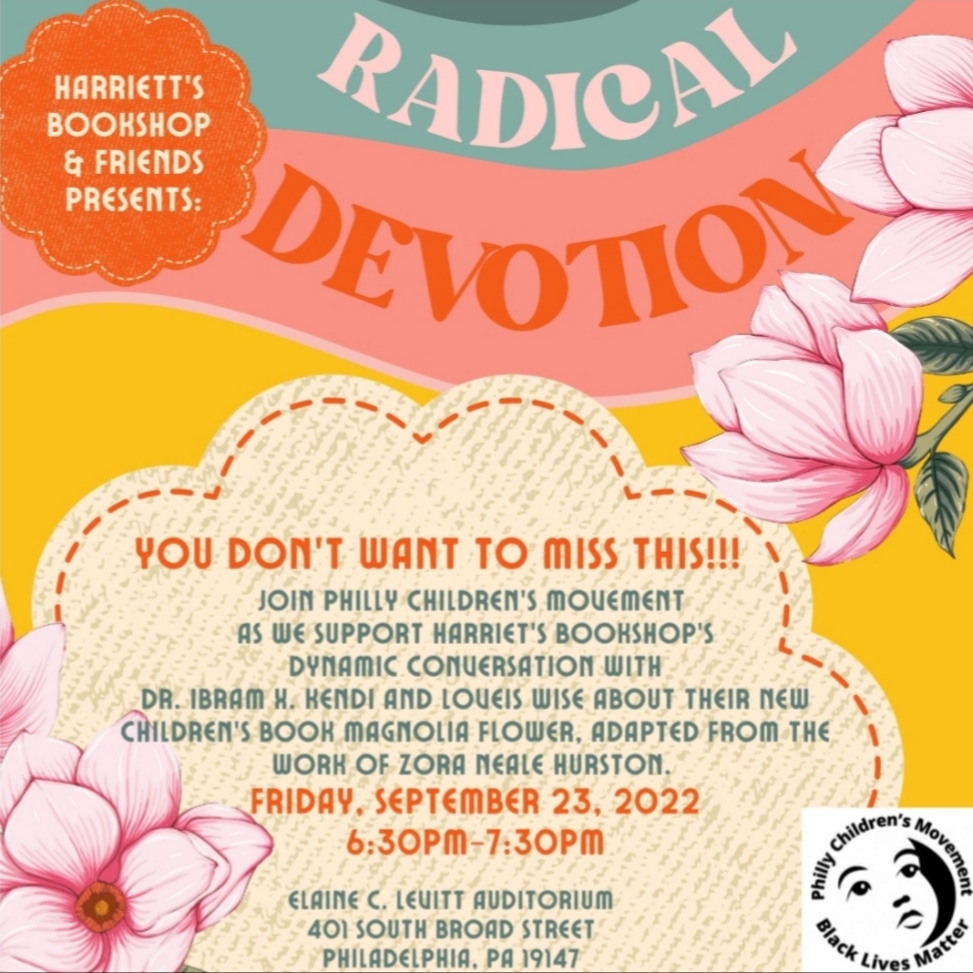 We had the privilege of listening to Jeanine Cook – PCM co-founder and owner of Harriet's Bookshop — in conversation with Dr. Ibram X. Kendi and Loveis Wise about their beautiful children's book, Magnolia Flower. PCM's table featured a banned book guessing game and banned book resistance bookmarks.
Germantown Fridge Birthday Party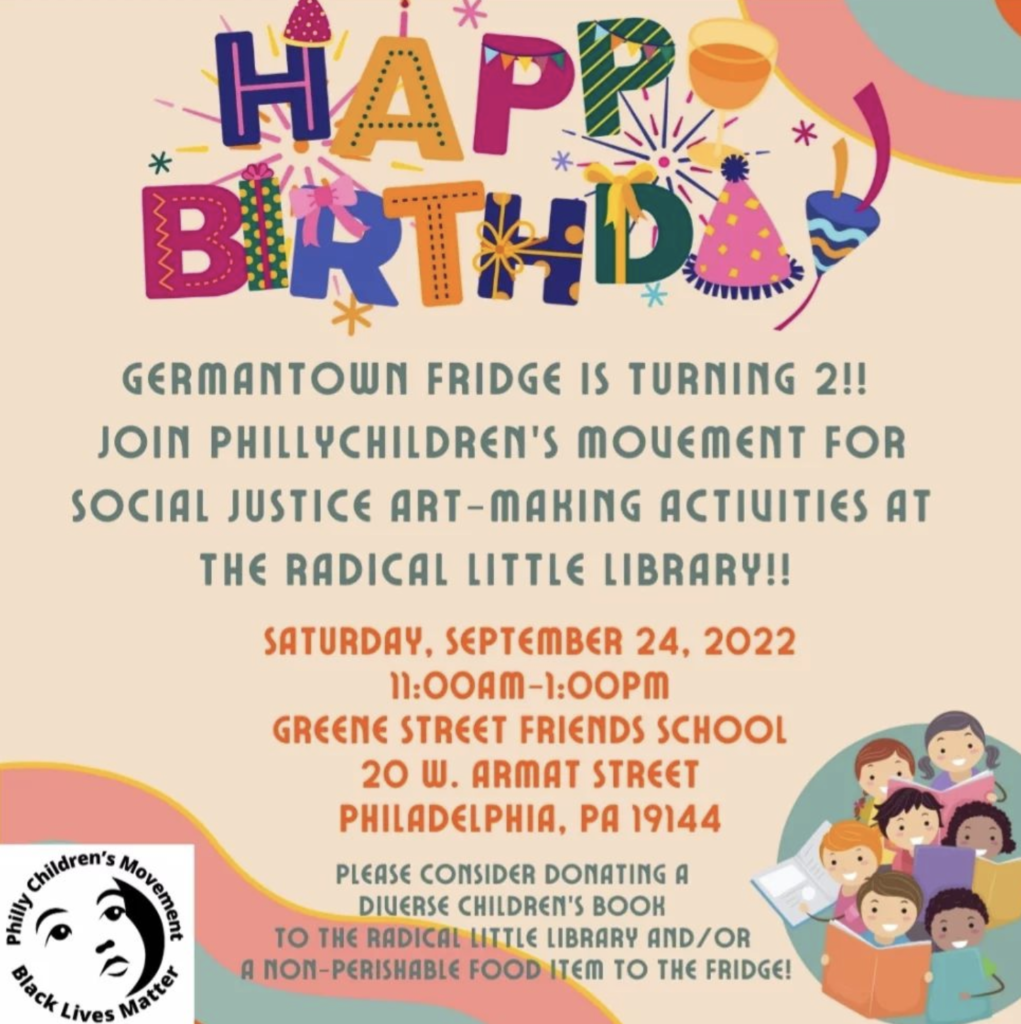 We loved meeting new families who stopped by our table at the Germantown Community Fridge's 2nd birthday! We created communities of care webs and had fun dancing and learning about mutual aid with the Germantown Fridge and NW Mutual Aid Collective.
Spiral Q Workshop
We had so much fun painting and playing with Spiral Q, preparing for the Peoplehood Parade. PCM families created awesome puppets and banners, leaning into joy as resistance.
RLL Needs You!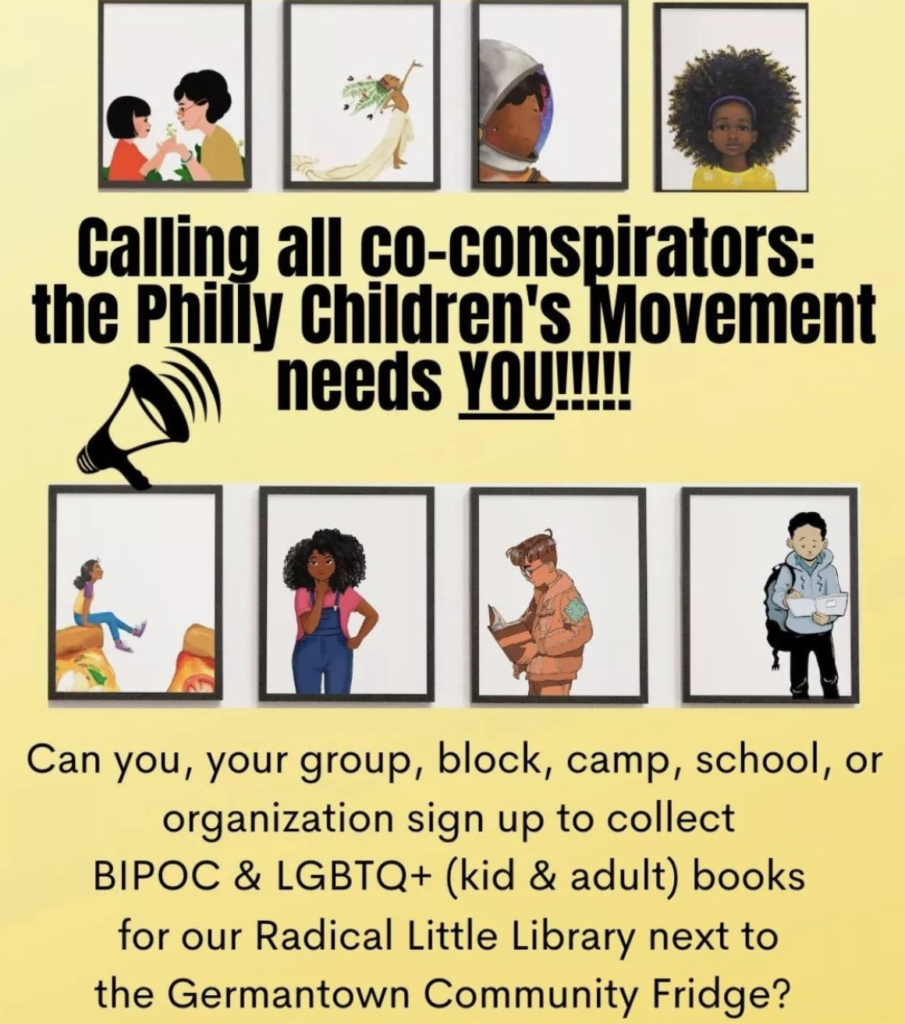 PCM's Radical Little Library (now located at the C.W. Henry School in Mt. Airy) is off to a great start, but we need your help to make it truly thrive. We're seeking partners (groups, neighborhoods, schools, etc) to volunteer to take a week- or month-long shift stocking the library with books featuring BIPOC and/or LGBTQ+ stories and/or authors — bonus points if they're banned books 🙂
We Still Here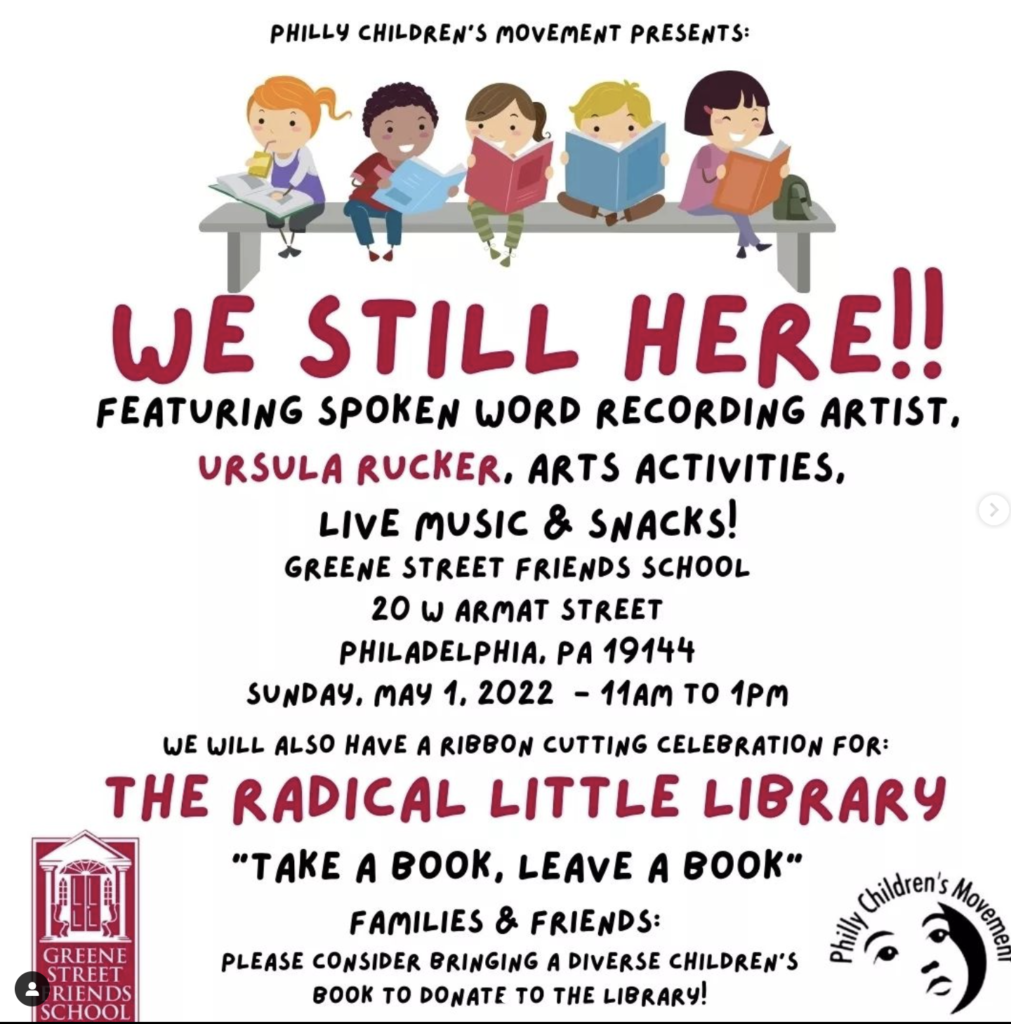 The Philly Children's Movement's Radical Little Library is officially in action! The amazing Ursula Rucker performed spoken word, pushing us to grapple with history, justice, and humanity — to a beat — while admiring her mural "We Still Here" by Mural Arts. Thanks to the Germantown Fridge for partnering with us on this powerful celebration of mutual aid.
Announcing PCM's Radical Little Library!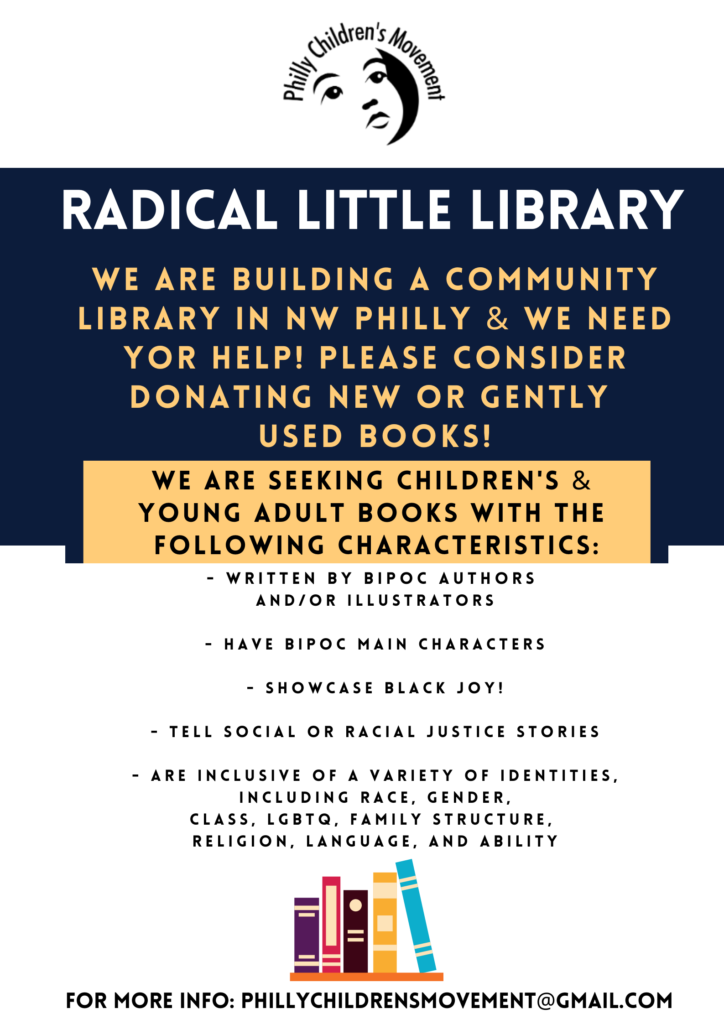 Donate to our Radical Little Library, now located at 601 Carpenter Lane in Mt. Airy, by the C.W. Henry School. We're especially looking for books that center BIPOC and LGBTQ+ characters, authors, and joy!
MLK Day of Activism 2022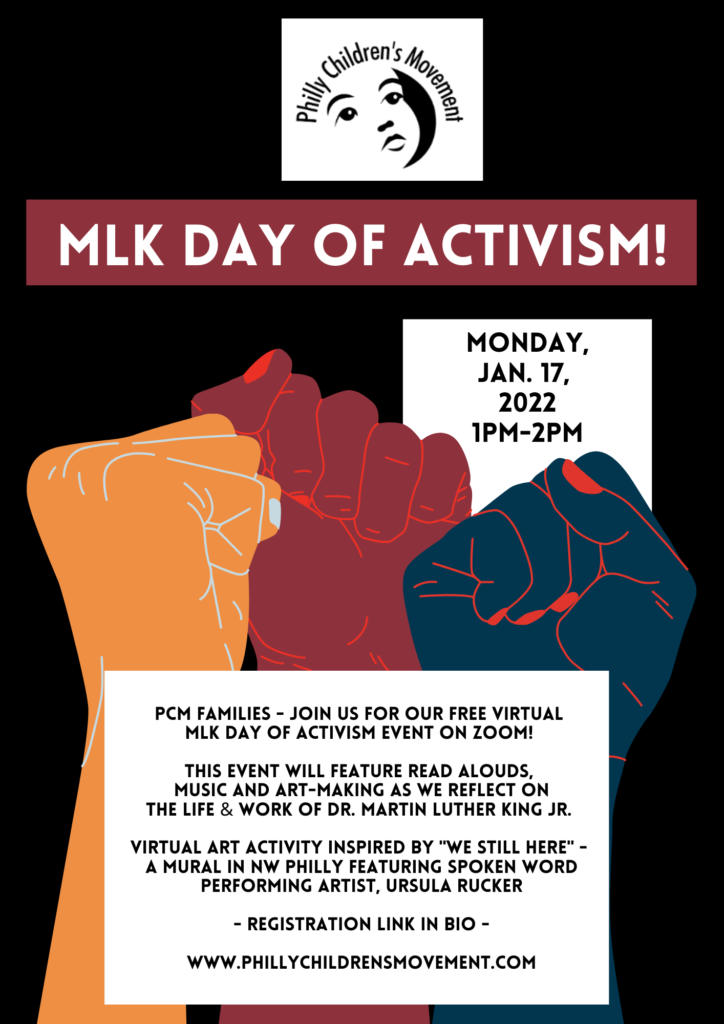 PCM celebrated Martin Luther King Jr. Day with a powerful and inspiring Zoom program with children and families. We were fortunate enough to have Ursula Rucker perform spoken word for us, and we are in awe of the artwork that kids created based on her mural "We Still Here" by Mural Arts.
Reading Promise Festival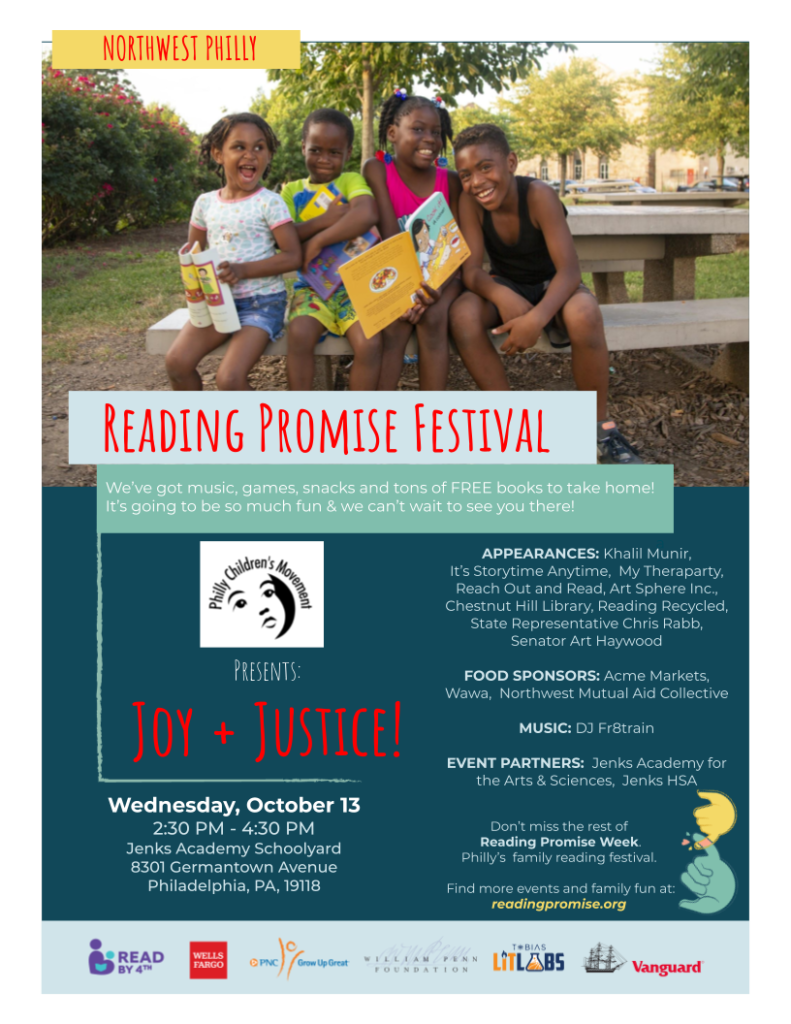 We had a great time partnering with Jenks Academy to join Ready by 4th's Reading Promise Week and share tons of free diverse children's books! We celebrated literacy with music, games, snacks, and so many books.
Bringin' the Joy – Summer 2021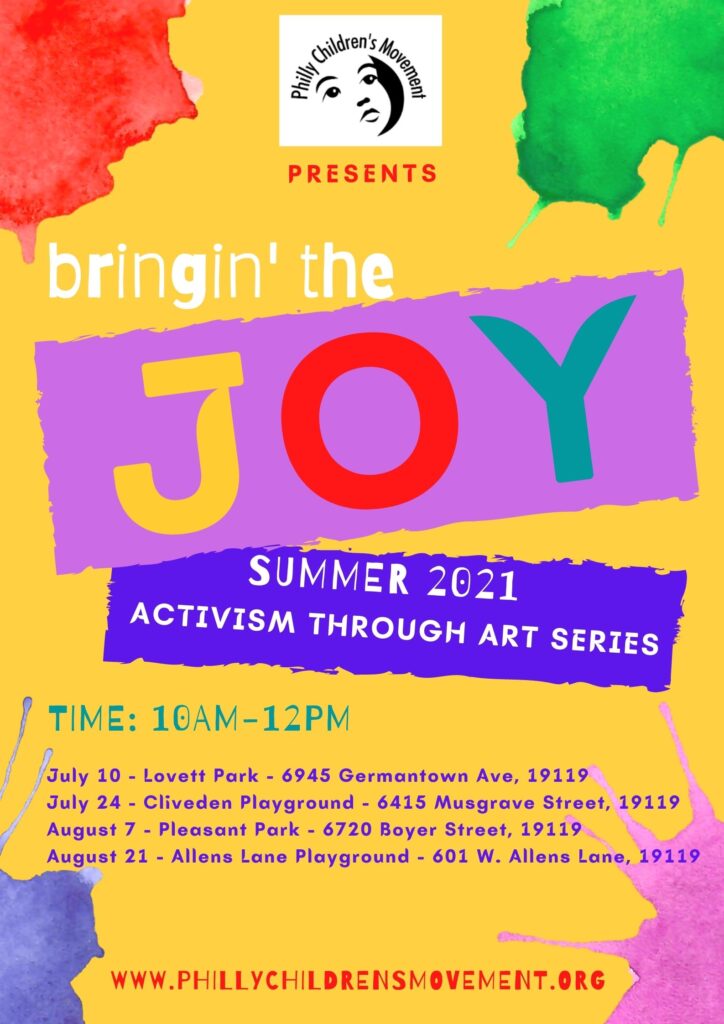 The PCM community is big and growing! It was so much fun to join our community in their own neighborhoods this summer to celebrate activism through art. Chalking, bubbles, and capes galore!
Juneteenth 2021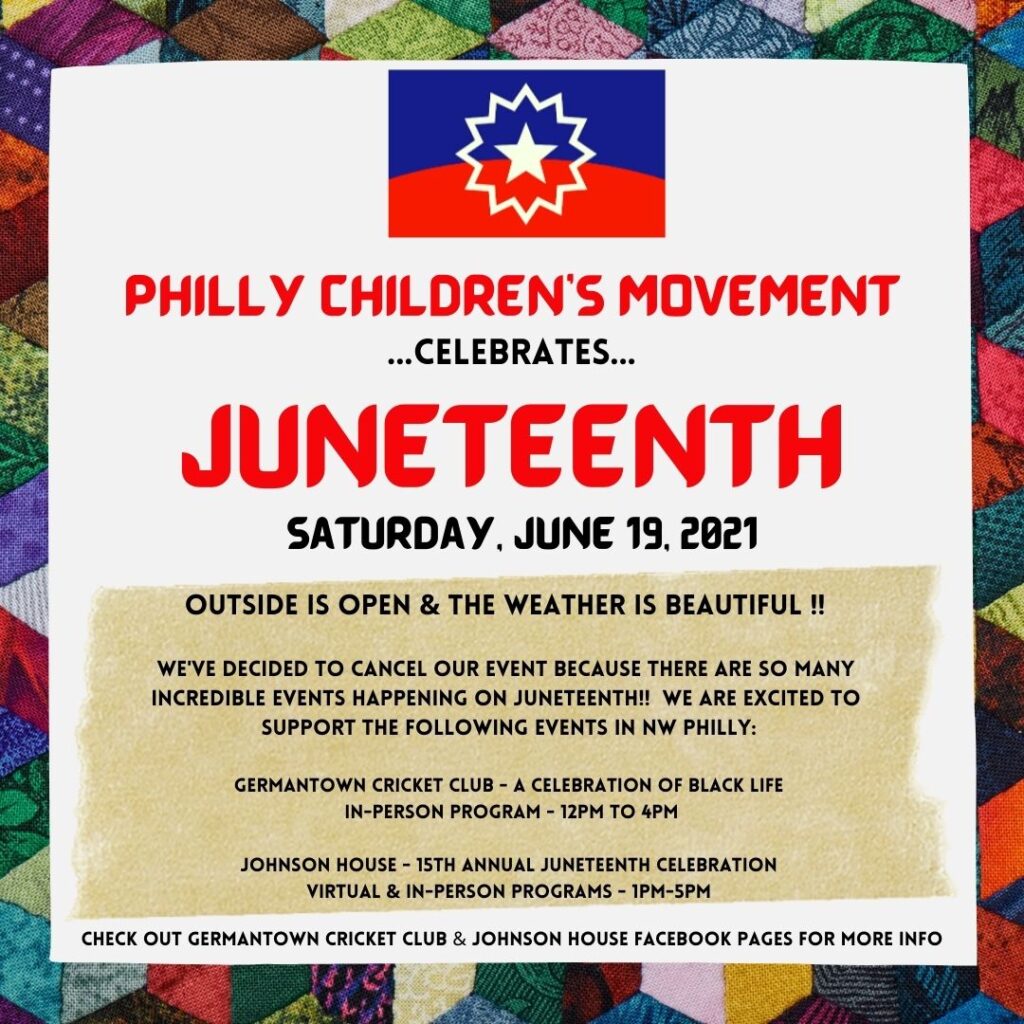 We celebrated and commemorated Juneteenth by supporting the Germantown Cricket Club's Celebration of Black Life and the Johnson House's 15th Annual Juneteenth Celebration. Thank you to these groups for hosing these joyous sand impactful events.
MLK Day 2021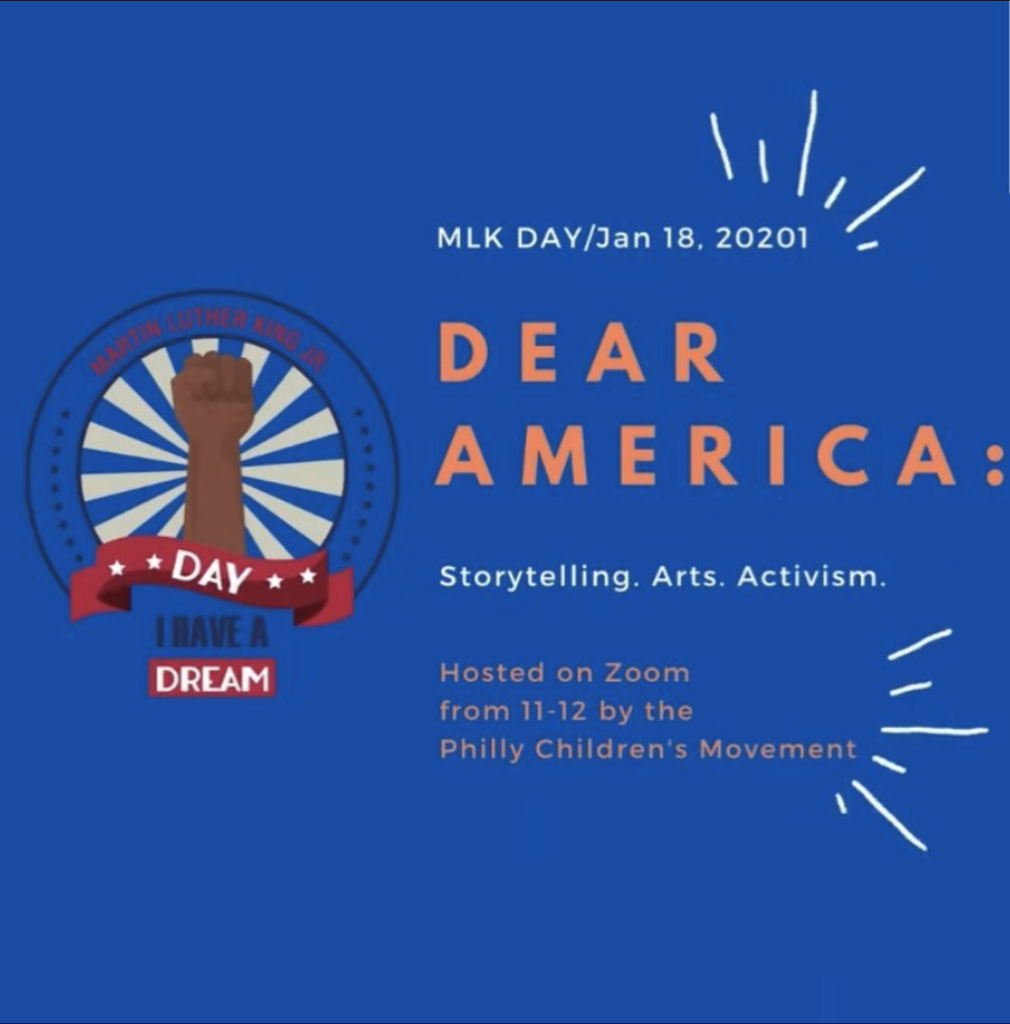 We had an amazing turn-out of young people and families to celebrate MLK Day through storytelling, arts, and activism. No pandemic can stop us from joining together in community to celebrate amazing changemakers.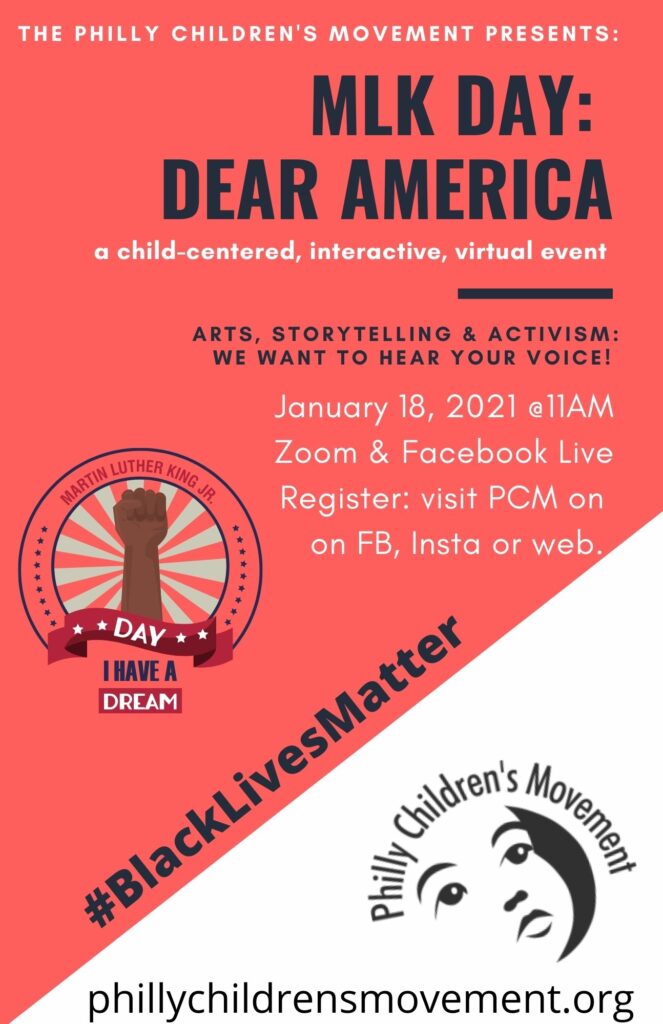 To Minneapolis, With Love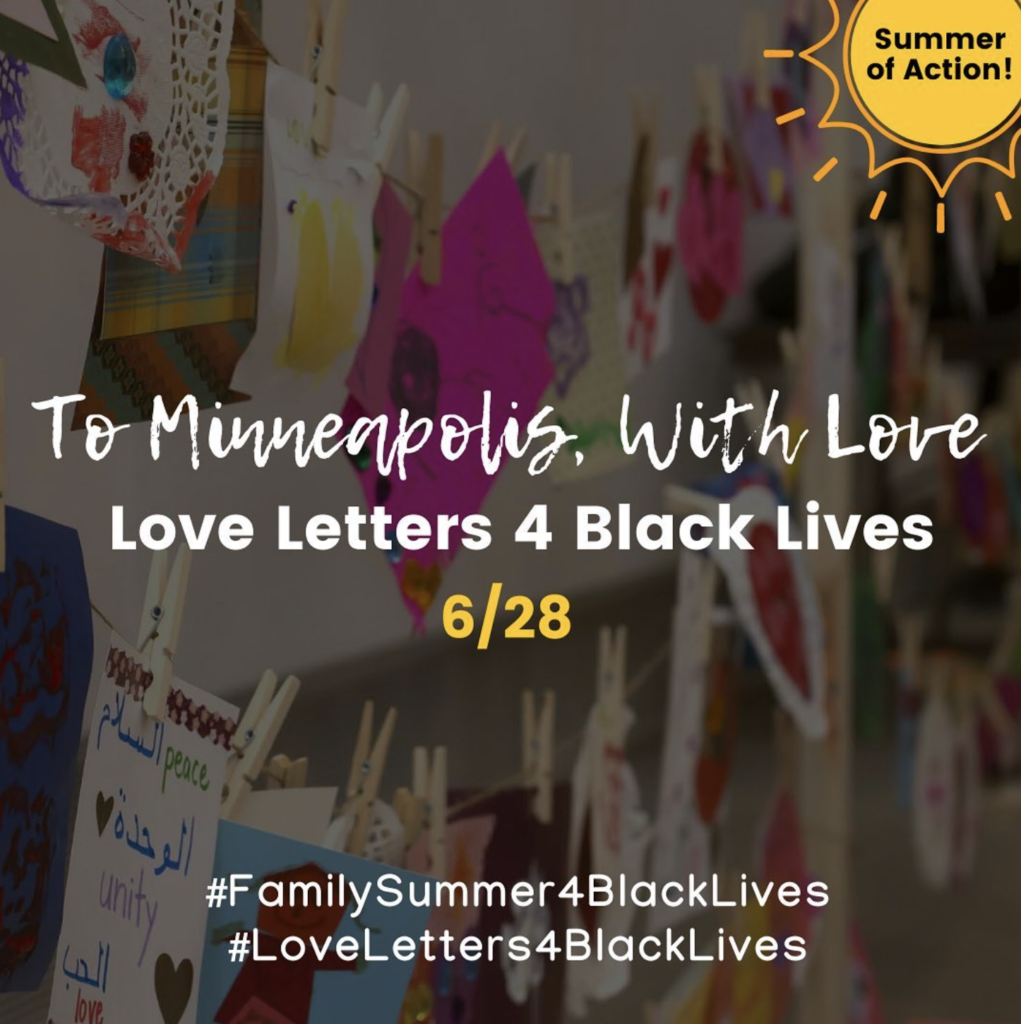 As part of #FamilySummer4BlackLives, PCM families collaborated with Wee the People, Revolutionary Humans, Books for Littles, MassArt, and Parenting Decolonized to write love letters to Black communities in Minneapolis, the city where George Floyd was murdered by police violence.
Family Day of Action 2020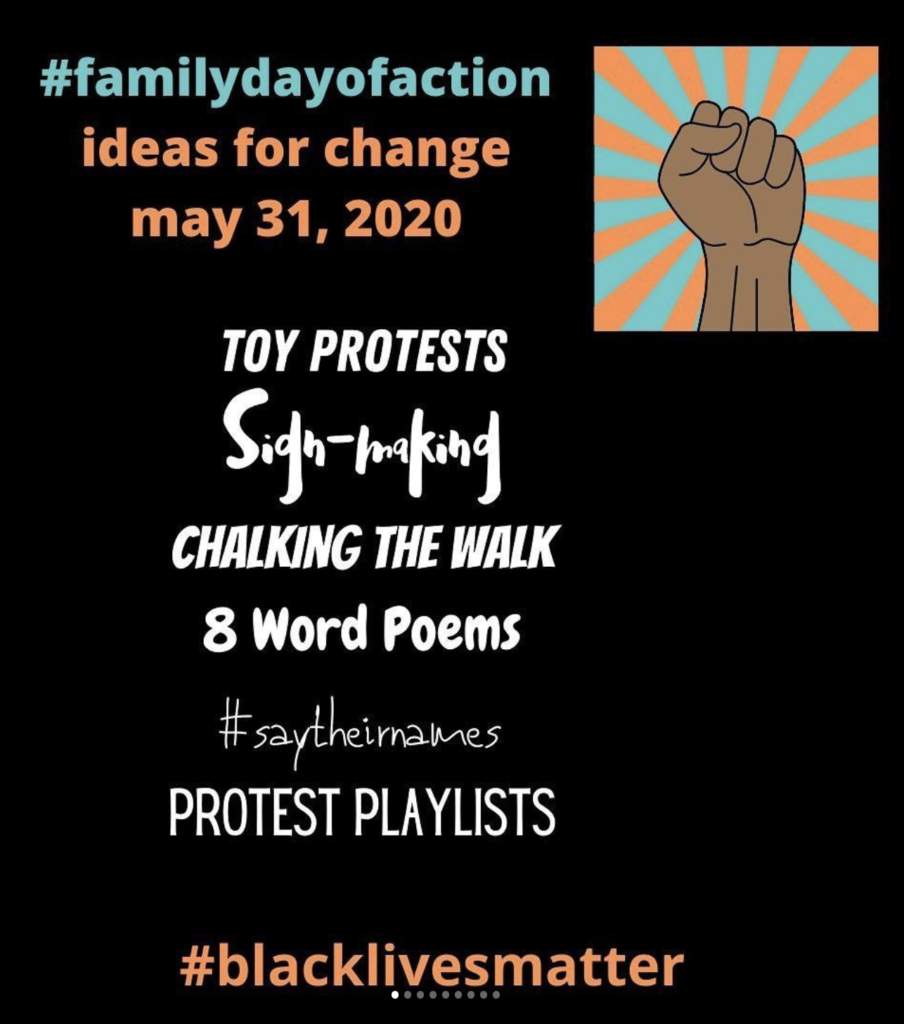 What a powerful day with so many of our favorite forms of child-centric activism: toy protests, sign- and cape-making, chalking the walk, 8-word poems, and more! While we couldn't join together in person, we saw so much amazing work.
Joy & Justice Kits
There are so many different ways to be an activist and think about change-making. PCM's joy & justice kits allowed kids and families to think about their own communities and how they can make a difference while stuck at home. Featuring Rulers, PlayDough, toy signs, globes, chalk, and more, these kids led to some amazing thinking, discussion, and action from PCM families.