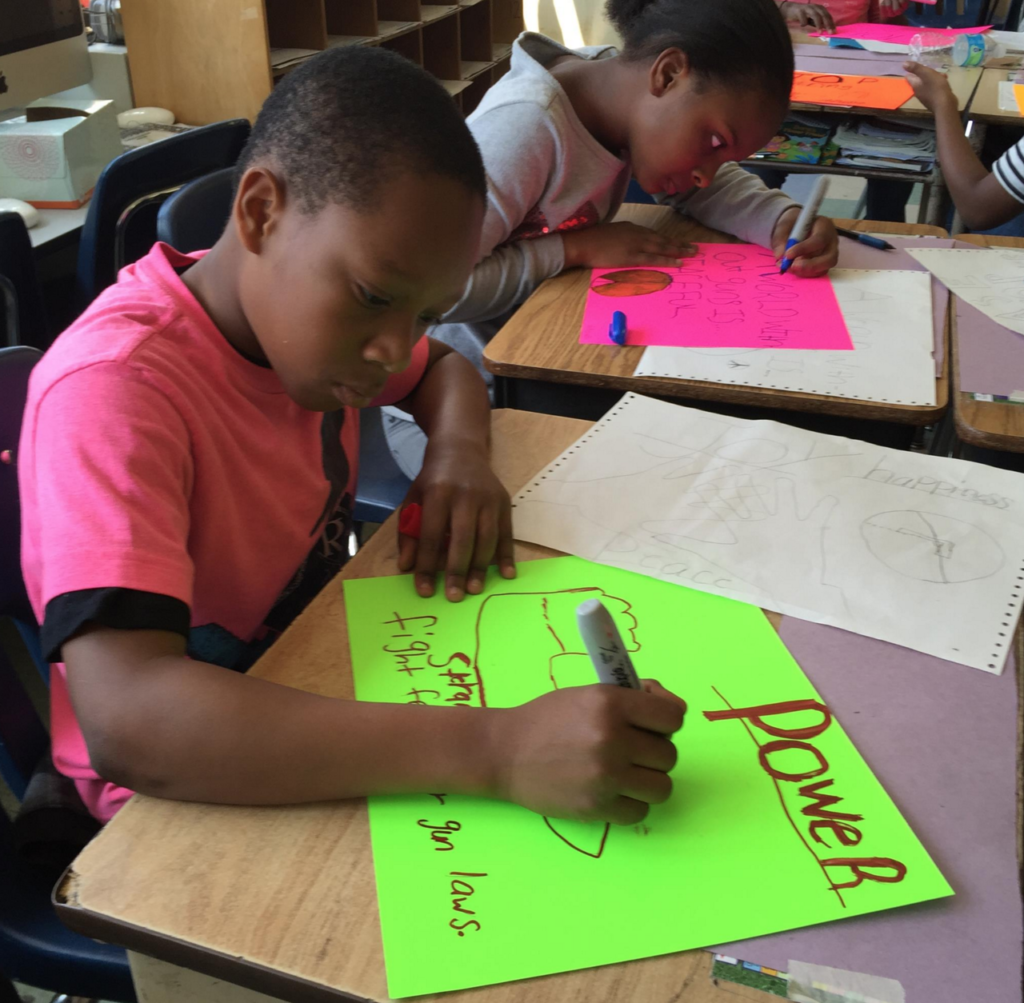 Guiding Antiracist Journeys
Since our founding in 2015, the Philly Children's Movement (PCM) has worked collaboratively with many educators, parents/guardians, and organizations, facilitating professional development, building curricula, curating discussions, and supporting student-led actions. We've organized with students, stretched educators, and supported parents on their antiracist journeys.
PCM has core members and other skilled facilitators and organizers who serve as guides, digging into biases, identifying White supremacy and anti-Blackness, and working on shifts that bring about genuine and meaningful change.
What can PCM do for my school community?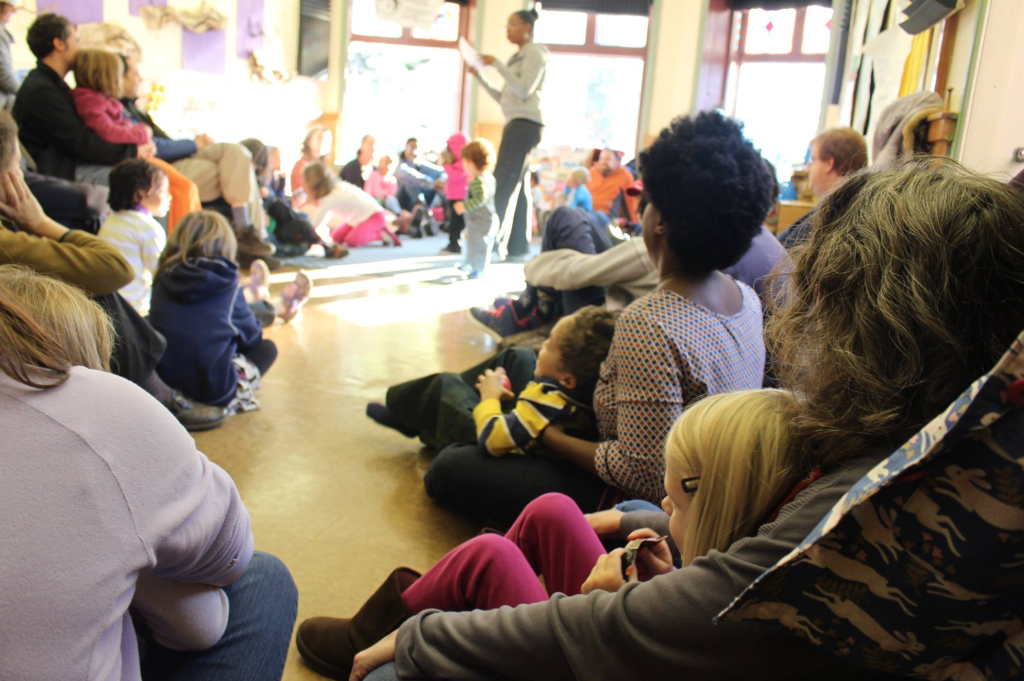 PCM can help your school or organization with antiracist and racial justice workshops, events, consultations, or campaigns. We have partnered with schools to design professional development experiences where teachers examine their own identities and the ways in which those identities impact their work. We support educators as they center antiracist and racial justice teaching strategies in their schools and classrooms.
"PCM provided the megaphone needed to amplify my students' voices… the students brought their vision and energy, and PCM turned it into reality. They were with us every step of the way in our advocacy. Working with PCM transformed me, my teaching, and my students' experience in the classroom…they created a space in which all of the students' voices were heard, and made sure that their voices were heard by the community… as well as the city and state legislatures!"
What are some examples of topics & workshops?
Our offerings include the following menu of four core workshops, a session on Radical Morning Meetings, and a six-part series on talking with kids about different elements of identity. Each workshop can be adapted to suit your school or organization's needs, including along such dimensions as number and type of participants (parents/guardians vs. educators), age of children/students, and participants' prior experience with racial justice work. Please contact us for rates and availability, or to discuss additional workshop topics beyond the ones listed below.
Core Four
Our set of four core workshops can be taken individually or in any combination, but we recommend taking them all, in order, for a comprehensive learning experience. Across the workshops, participants will develop deeper understandings of themselves and their own identities, the experiences of the young people they teach and care for, and how White supremacy and anti-Blackness show up in education.
Workshop 1: Developmental Stages: Understanding Race and Racism. Parents/guardians, educators, and caregivers share what they've noticed and wondered about young people's understanding and experiences of race, which is then layered with what research has demonstrated. Definitions, stages, videos, and social media sites will help adults feel both stretched and supported in their antiracist journeys.
Workshop 2: Using Youth and Children's Media to Build Antiracist Families & Schools. This workshop invites parents/guardians, educators, and caregivers to explore youth and children's media that centers or is created by people from BIPOC communities. Information about representation in children's books will be shared, and time will be allotted for browsing media, asking questions, and exploring the concepts of equity and antiracism.
Workshop 3: Talking with Children and Youth About Race and Racism. Integrating the practices developed in the first three workshops, parents/guardians, educators, and caregivers will use their understandings of developmental stages, bias, race, and racism to respond to and spark conversations about race with children and youth. Participants will also brainstorm ways to create networks to support each other and continue their antiracist work.
Workshop 4: Spotting Bias in Ourselves and Our Curriculum. When we "do the work" of disrupting racism, we must understand how bias works. Children and youth's propensity for intergroup bias and essentialist thinking will be discussed, and adults will also explore their own biases. We will explore powerful tools for identifying and addressing bias in ourselves, our homes, and our curriculum.
Radical Morning Meeting
Many educators are familiar with morning circle or Responsive Classroom's "Morning Meeting." In this workshop, participants will learn how to leverage this flexible daily space (or similar spaces within their organizations) to support joy- and justice-centered communities. The Radical Morning Meeting framework is practiced, explored, and applied to each participant's individual context.
Talking with Kids About Identity (6-part series)
This workshop series, initially housed at Swarthmore College, provides an introduction to the why and how of talking with children about race, socioeconomic status/class, religion, disability, gender, and sexual orientation/family structure. Workshops focus on shared language, concrete strategies, resources, and learning from lived experience. Participants should expect a high level of engagement and to come away from workshops feeling more confident and supported in talking with children about identity.
Talking with Kids About Race
Talking with Kids about Socioeconomic Status/Class
Talking with Kids About Religion
Talking with Kids About Disability
Talking with Kids About Gender
Talking with Kids About Sexual Orientation/Family Structure
"PCM does not offer a band-aid. Over many months, they skillfully led faculty and staff through a series of discussions and workshops about racial awareness and implicit bias."
What schools and districts has PCM partnered with over the years?
PCM has worked with a wide range of educational organizations: entire school districts, elementary and middle schools, public and private schools, charter schools, and early childhood programs. This includes direct work with students, parent workshops, professional development sessions with administrators and faculty, as well as school and district-wide listening campaigns.
Philadelphia:
Community Partnership School*
Henry C. Lea Elementary*
Independence Charter School
Philadelphia Montessori Charter School
Samuel Powel Elementary*
Science Leadership Academy Middle School*
Thomas M. Peirce School*
Waldorf School of Philadelphia
West Philadelphia Cooperative School
Suburbs of Philadelphia:

Glenwood Elementary School
Indian Lane Elementary School
Media Elementary School
Media-Providence Friends School*
Penncrest High School
Rose Tree Elementary School
Springton Lake Middle School
Strath Haven High School *
The Thorne School at Bryn Mawr College
The Walden School
West Hill School
William Penn School District
Outside of Pennsylvania:
The Hollingworth Center at Columbia University
Rutgers University Community-Engaged Anti-Racist Education Project
New Brunswick School District
Highland Park School District
Franklin Township School District
*Denotes direct work with students.
Want to learn more?
Email us at [email protected]