PCM has been busy the past two months working in solidarity with a whole host of amazing Philly-based activist organizations to fight Moms for Liberty and their impending "Joyful Warriors" summit.
We've partnered with old and new friends from ACT-UP, BAR-WE, Philly Family Pride, COLAGE, Bearded Ladies Cabaret, Zinn Education Project, Black Lives Matter at Schools, the Library Freedom Project, Swarthmore Educational Studies, the Philly Childcare Collective, Workers World, Defense of Democracy, and more. We are so inspired and grateful to work with such an amazing crew of co-conspirators, and we're learning from them at every step of the way.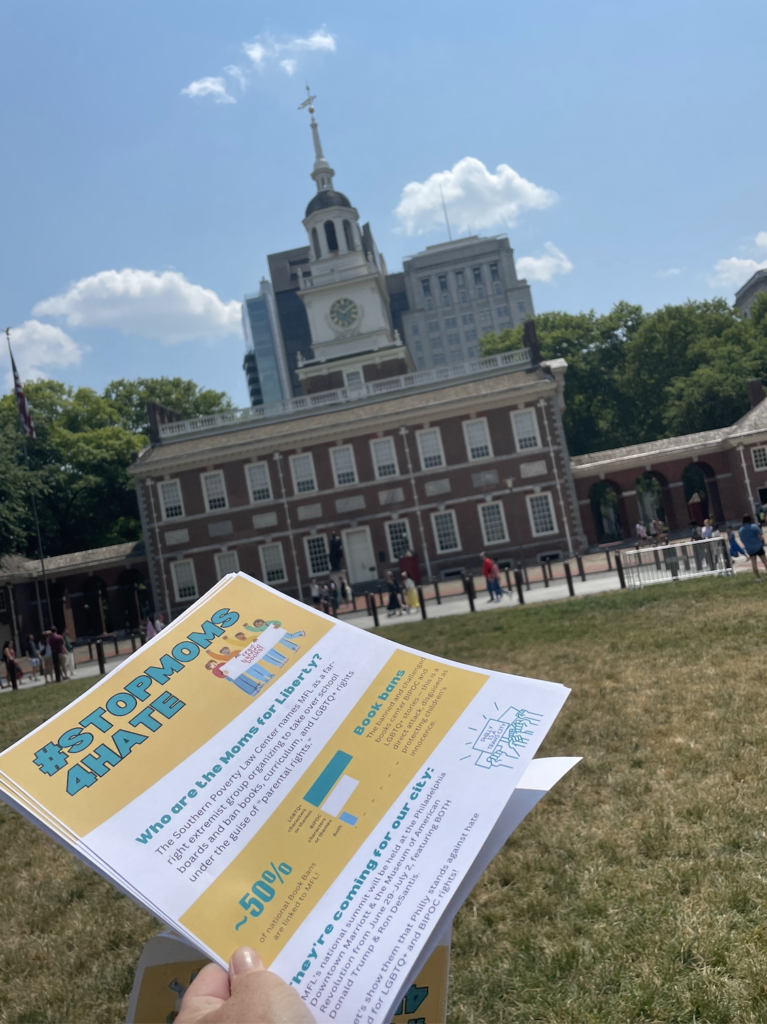 Moms for Liberty infographics created by our intern and distributed at Teach Truth on June 10
We look forward to our weekly, motivating Zoom meetings and aim to support one another's actions leading up to the summit, as well as collaborate to plan resistance for during the summit from June 29-July 2. If you'd like to join our planning group, feel free to register here. And keep an eye on our social media for updates on where and when to show up and resist!
Thanks to ACT-UP and the Young Communist League for leading the way on protesting at the Marriott and Museum of the American Revolution, both of which are slated to host Moms for Liberty later this month. They've led protests on May 12, May 26, June 2, June 9, and June 16 and plan to continue leading up to the summit. PCM members have been glad to join in when possible, and PCM co-founder and core member Jen Bradley even spoke to share our collective's perspective.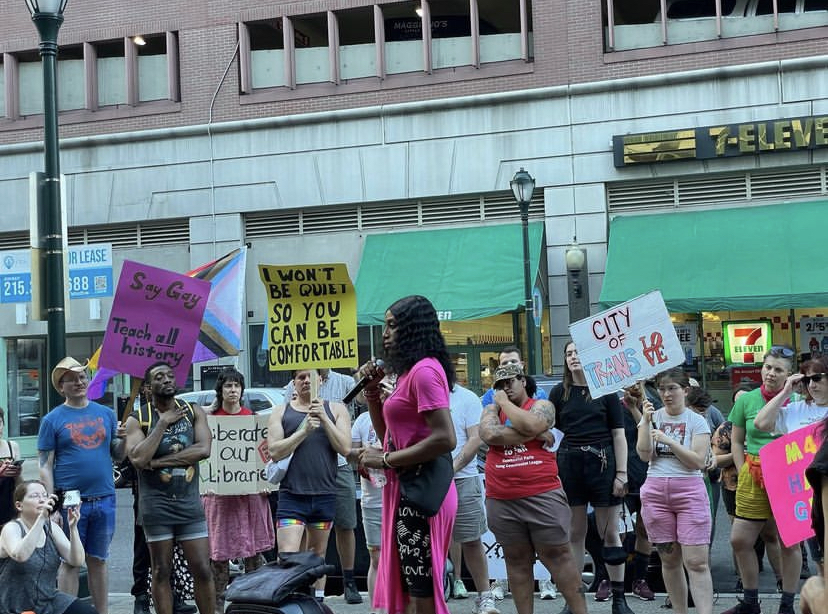 Our collaborator Jazmyn from ACT-UP speaking at a protest in front of the Marriott on June 2
On the kid front – our specialty! – Sam and Carrie led the first of a two-part Kids Against Hate teach-in series. We had an amazing, energizing, inspiring group of kids, including some PCM veterans and some new faces. The kids drew amazing connections between the kinds of books that are being banned, noting how they show off all different kinds of families and highlight embracing one's identity. They were particularly passionate about Moms for Liberty's deceiving name… we can already imagine some of their amazing protest signs. We can't wait for part 2 this Thursday, June 22. If any kids in your life would like to join us, feel free to register here. We'll be taking collective action and gearing up for our July 1 joyful, kid-centric event near the summit. 
A collage of banned children's books, which got us all thinking at our Kids Against Hate teach-in part 1 on June 13
We also joined Teach Truth Day of Action, hosted by the Zinn Ed Project, BLM at Schools, and the African American Policy Forum on June 10. We played our banned book guessing game, handed out an infographic on the dangers of MFL, and colored banned book bookmarks with old and new friends. 
Kids hard at work decorating bookmarks to celebrate reading banned books in People's Plaza
MFL's stances and supported policies put BIPOC and LGBTQ+ kids – as well as all kids and adults – at risk in the classroom and beyond. At PCM, we envision a world where Black Lives Matters, trans kids become trans adults, and all kids are loved and supported at school and at home. This means it's critical for us to follow kids' lead to get there, and we won't let MFL stop us.